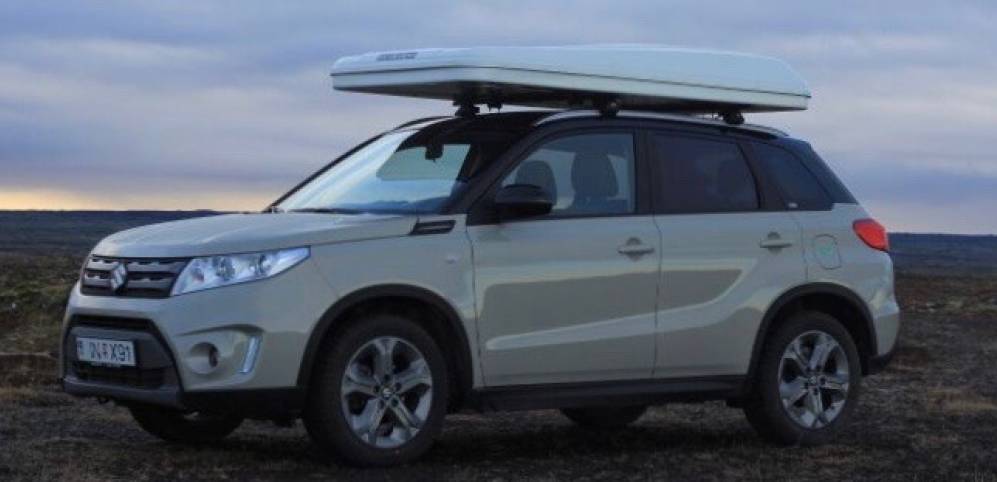 Campers
Suzuki Vitara (Manual) + Roof Tent
Suzuki Vitara with Roof Tent.
These are 2017 model
A great way to travel around Iceland in a camper.
Unlimited mileage, CDW & Theft Protection included.
5 passengers
Manual
5 suitcase
5 doors
Rent a Suzuki Vitara with Roof Tent in Iceland
Bluetooth
USB
12V Plug-in
AVG. Fuel Consumption 5.7l/100km
398 liter Trunk
The Suzuki Vitara is 2017 model. It is a perfect vehicle to travel around Iceland in. With its 1.6 liter engine that is very quiet, it provides both low fuel consumption and a relaxed way to cruise around Iceland. It is a five seater compact SUV which is a great choice for families that are visiting Iceland. This model has a manual transmission. Trunk dimensions in Suzuki Vitara are L : 76 CM, H : 50 CM, W : 101 CM. 
Click here to read more about our camping cars in Iceland
Our Roof Tent vehicles come with a tent that is easy to use. This is a great way to travel around all of Iceland, F-roads also without having to worry about accommodation. Our tents are made for the Icelandic conditions, so they handle the wind and rain exceptionally well. It only takes about 10-15 seconds to open and close the tent. Included with all our tents is a mattress (125/210CM), 2 pillows, sheet and bed linen. This is perfect for 2 people. Average age of our tents is only 1 year. 
If you want the full camping experience you can rent our Sleeping Bags, Kitchen Box, Table & Chairs, Wifi and more extras we have to offer with the Roof Tent vehicles. You can read more about our equipments here 
Suitable for all F-roads (excl. F249) 
The Suzuki Vitara with Roof Tent is suitable for F-roads, but it is still important to keep in mind that off-road driving is illegal in Iceland and can cost a hefty fine incase of off-road driving.
MORE PHOTOS
We do not guarantee a specific model. If car model booked is not available we provide a similar vehicle.