Gas Prices in Iceland 2023
You may be planning a self-drive visit to Iceland this year, and due to the current situation in the world, gas prices may be one of your concerns. Here in this article, we go over gas prices in Iceland in 2022.
General things here in Iceland are probably more expensive than what you may be used to from home and unfortunately, gas prices are no exception. So, what should you expect when visiting Iceland in regards to the gas prices?
Gas prices in Iceland, August 2022.
At the moment when this article is written, the petrol prices in Iceland range from 310-337 ISK and the Diesel from 310-3302 ISK per liter.
If chasing the best deal on gas is important to you, we would suggest checking out this website to see all the current gas prices at each gas station. At the moment the gas station Orkan has the top 3 cheapest stations, located at Bústaðarvegur, Dalvegur, and Reykjavíkurvegur in Reykjavík but Orkan is also the cheapest in Akureyri in the north of Iceland.
Using the website linked above, you can also select to see the gas prices in each region in Iceland, depending on where you are heading, making it fairly easy to follow the best deals. 
Is gas expensive in Iceland?
You are probably not going to like the answer to that question, but yes, Iceland has the third-highest petrol prices in the world in 2022. Planning ahead and choosing a fuel-efficient vehicle can make quite the difference in the amount you will spend on gas on your travel in Iceland.
Is gas cheap in Iceland?
Coming directly from the question above, no, the gas prices in Iceland are one of the highest in the world so gas in Iceland can not be called cheap.  Research on gas prices before your arrival and planning accordingly can make a difference in the total amount you spend on your journey here.
So, How much should I budget for gas in Iceland?
That question solely depends on what vehicle you have hired for your Iceland adventure as well as the period of your travels, and also, where you plan on heading.
Let's say you have chosen a small economy vehicle for 1 week and you are planning to travel the ring road in Iceland. A budget of 30-35.000 ISK (230-250$) would be the goal.
How do you pay for gas in Iceland?
Iceland is full of self-service gas stations and when purchasing fuel there, a card is most often needed. Most gas stations also accept payments on smartphones and if you plan on paying for gas with cash, then you would have to aim for service gas stations. Not all self-serving gas stations accept payment on the phone so it is safer to keep the card with you as well.
When using a self-service gas pump, you will have the option to choose "Fill" or "Fylla" in Icelandic. If you choose this option, a reserve will be put on your card for the amount of 25.000-30.000 ISK (Approximately 190 – 226 USD), then this amount will be released and only the amount you filled up for will be charged. This procedure may be troubling for those who have foreign cards used for the transaction, as it can take some time for the amount that was not used, to be returned. If you would like to avoid this, we would recommend purchasing a fuel card at one of their gas stations that you can fill up on as you see fit.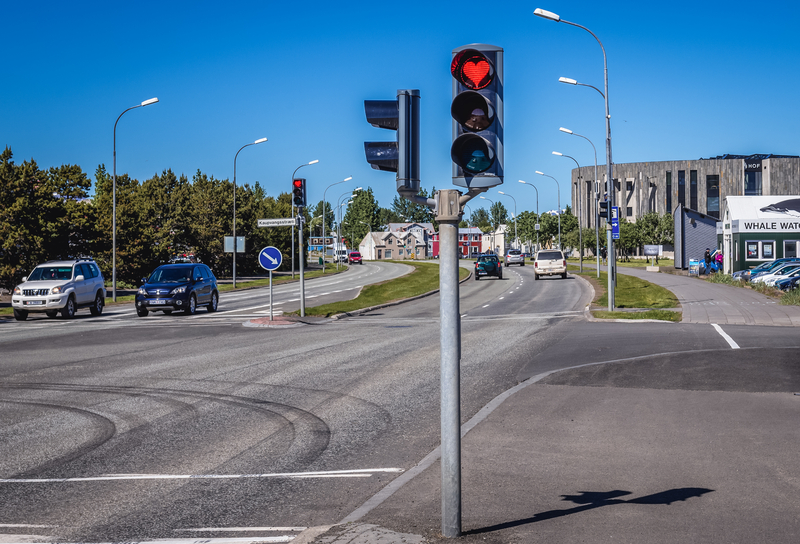 Gas prices in Akureyri
Gas prices in Akureyri are in short, very similar to the ones you will find at gas stations in Reykjavík. When this article is written, the gas prices in Akureyri range from 267 – 301 ISK per liter. You might find that all gas station brands offer low prices per liter as well as another station that has a higher price than the other.