Our recommendation
How to dress in Iceland
Are you on your way to Iceland and wondering what to wear in these challenging weather conditions?
Here are a few ideas how to dress in all seasons here in Iceland !
Here are a few ideas how to dress in all seasons here in Iceland !
The weather in Iceland is actually milder then people really think but it is really short between sun and snow at times so there is no way to predict weeks or months in advance. Icelandic weather and climate conditions can change very quicly. No matter in what season you are visiting you should always have wind and water resistant clothing before heading off to some exploring. The best tip is to dress in layers, if it is cold you can add layer on but if it's hot you can take layer off.
Winter time in Iceland is usually covered in ice and snow but the snow usually doesn't stay for that long time, maybe a few days. It really just comes and goes throughout the winter. The rain is much more common here ! The wettest month is October. Also the cool wind is very common all year around and can be very strong at times. The climate is usually around 1° C in this time. Just remember to be very careful to hold the door on your vehicle while you open it in such strong winds!
 Photo by Martin Robles
What to wear from September to May ( Winter time )
1.    Woollen underwear
2.    woollen or thick socks
3.    Warm sweater, wool or fleece
4.    Wind and water resistant outdoor pants
5.    Wind and water resistant jacket
6.    Warm hiking boots with ankle support
7.    Warm hat, scarf and gloves
Summer time in Iceland is usually pretty good. The midnight sun occurs, meaning that the days are very long and people gain extra energy. The longest day of summer is around 21st of June, on that day the sun does not set. The climate is somewhere around 15°C in this time.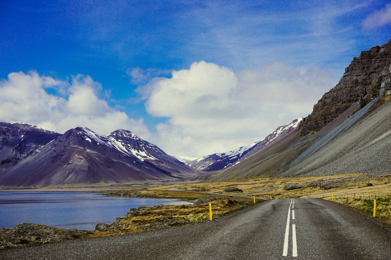 Photo by Dan Gold 
What to wear from June to August ( Summer time )
1.    Normal underwear
2.    Long sleeve shirt
3.    Warm sweater, wool or fleece
4.    Outdoor pants , zip off pants that change into shorts are a great idea !
5.    Light wind and water resistant jacked
6.    Hiking boots with ankle support 
7.    Hat, scarf and gloves 
It is absolutely your choice what you wear but if you are travelling out of Reykjavík area do not let fashion ruin your day! If you are not well prepared and not dressed appropriately for Iceandic weather it can make you very uncomfortble and kind of ruins the trip.
Things that are must to bring along on your Icelandic journey!
Sunglasses –  The sun often lingers very low so the sunglasses are a must here any time of year! Also if you plan to go skiing or on the glaciers the sunglasses would help you alot with the strong reflection of the sun.
Sunscreen – the sun is very strong here and also the reflection from it to – highly recommend to use sunscreen, exspecially in the summer time.
Your camera – This amazing country offers alot of fantastic photograpic places so be sure to bring your camera with you.
Backpack – small backpack or a camera bag to keep your camera and stuff in. Great way to keep outdoor clothes in. It is also a great idea to have a small emergency kit in it like bandaids and that kind of stuff.
Swimwear – there are a lot of warm swimming pools and natural hot springs here in Iceland. They are perfect for relaxing after a busy day of traveling and sightseeing.
In the end just remember to travel safe and have as much fun as you can enjoying the beauty of Iceland!