Camping in Iceland
When traveling in Iceland, camping is the most popular way to travel during the summer months. Here we go over where you can find most camping grounds before your travel and some tips and tricks to know before you start your journey.
Having the freedom to go where your heart desires while on your travel to Iceland is amazing. Of course, you are going to want to plan some destinations before your journey starts but if inspiration and opportunity represent themselves you might want to have the option of going there without any restrictions. By choosing a camper for your trip instead of booking accommodation beforehand you have the freedom to do so. We do believe that is also the best way to see and enjoy the country to its full potential and fully immerse yourself in the amazing nature of Iceland.
The unpredictable weather may raise certain challenges, however, the idea of such an incredible life experience might appeal to you to make camping in Iceland your choice of travel.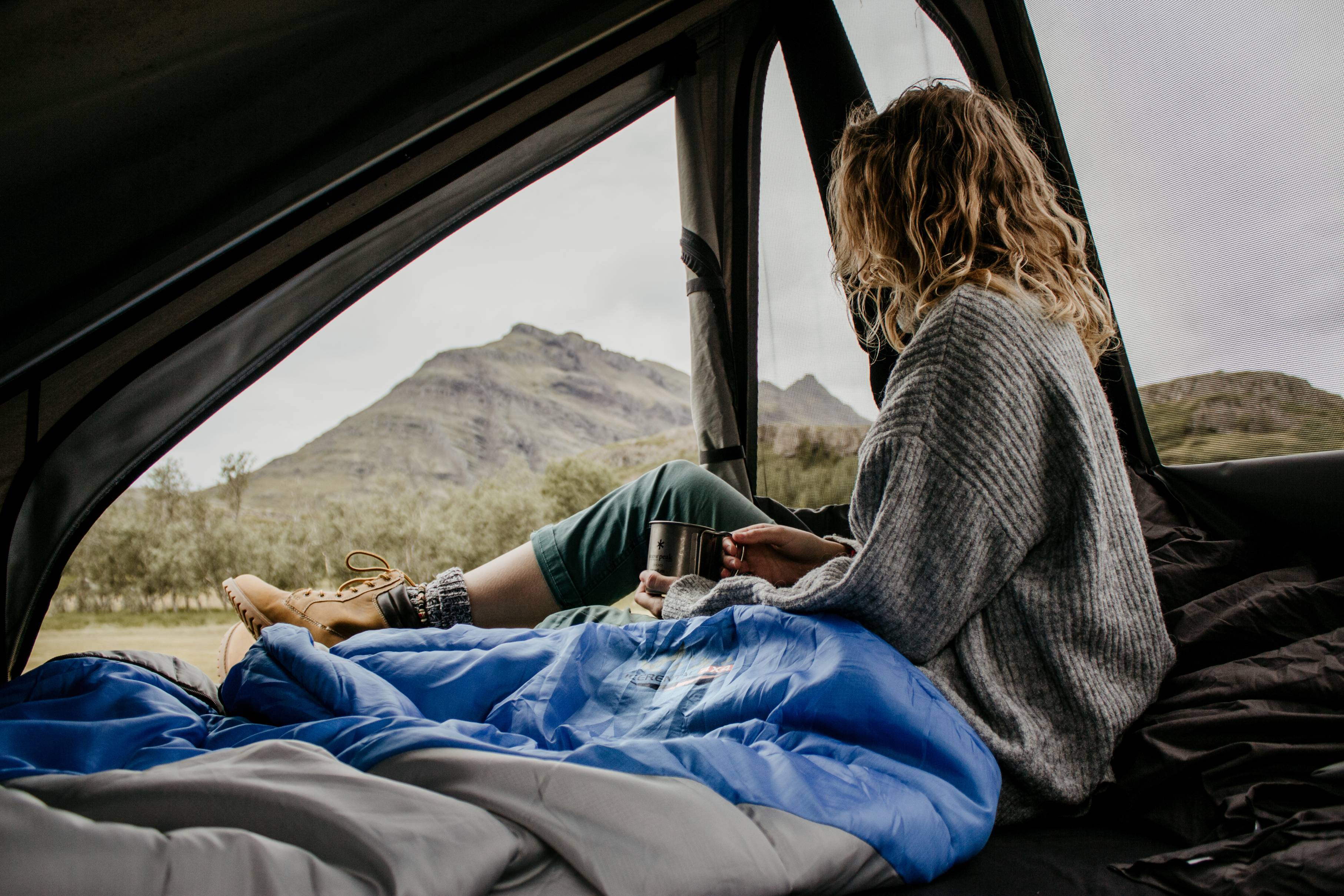 Icelanders have a passion for camping and often traditions for families and friends to pack their belongings and meet in campsites all over the country.
Camping is more often the cheapest way to travel around the island making it invaluable for those travelling on a budget. Most travellers visit Iceland for the scenery and when you have no base to return to everything becomes so much more accessible.  
We here at Icerental 4x4 offer a variety of 4x4 Roof tent vehicles that are perfect for a trip around the country. Having your accommodations with you everywhere you go is very convenient and comfortable! 
Although camping in Iceland can be amazing and unique it can be a hassle to organize all the equipment you might need and to plan which camping site to visit in advance. Thankfully there are options available. You can rent bigger equipment needed for example like camping chairs, tables, GPS systems, and the main things you might need for cooking making your packing a little lighter.
When to go camping in Iceland.
The best and most popular time of year to go camping in Iceland is from late May until August. In those months the sun sits very little and late and you will probably see the sun does not set until after midnight so you might want to pack a sleeping mask to avoid any insomnia. The weather is also milder so there is a lot less chance of you experiencing heavy rain, snow, or storms. Even in summer, the weather can be unpredictable and there is still potential for high winds so it is always good to check the forecast before settling down on a location.
Campsites in Iceland
Although most of Iceland is uninhabited and barren, it is mostly only allowed to set up camp in designated camping sites. You can technically set up a tent in Iceland and go camping for free but only if you know Icelandic land ownership and laws inside and out, study up on what is considered cultivated land and what is not throughout Iceland, and know the local municipality laws well. But it is very challenging to do and leaves you exposed to friction with locals and law enforcement. So we always recommend choosing any of the 170 registered camping sites around Iceland. They are usually very affordable as well.
Camping sites usually charge from 4-20 EUR, sometimes a little more if you have a camper van. The amenities on each campsite also vary from some just having the basis of only a place to pitch a tent and others have hot showers, charging stations, free WiFi and some even have laundry facilities.
Most campsites close over the winter, so if you are going to camp there over the winter months you just need to have planned it carefully in advance. Find which campsites are open, there are around 25 of them open all year round.
We recommend checking out this website to find most of Iceland's campsites.
Where to shower in Iceland while camping?
Some campsites do have showers that you can use for a price, but some of them do not even have hot water! So we much rather recommend stopping at the local swimming pool. Every town no matter how small has a local swimming pool. It should not be hard to find if you just look for the swimming pool sign.
WiFi in Iceland
It is good to be able to go online while on your trip around Iceland as you can find many great apps that can help you on your journey. We recommend checking out the Iceland Road Guide, Vedur (For weather predictions in Iceland), and Wapp for walking trails. There is even an app called Vegan Iceland for those following that diet.
Some of you may have international data and that is great and it works here in Iceland although you may find it a little slow. If you do not have international data you can often rent WiFi routers with your rental car and most Cafés, coffee shops, and swimming pools have WiFi that you can use.
Highland camping in Iceland
If you want to visit the amazing Landmannalaugar or Askja you can do so in the summer. The roads into Landmannalaugard and Askja are not open all year round due to weather and road conditions over the winter. Then after winter, they do not open up again until the road has healed from the winter. Do know that you need to have a 4x4 vehicle to be able to drive on these roads. You can monitor road conditions and openings using the website www.road.is
We also recommend checking out our travel guide.