5 Reasons why you should visit Iceland when you can start to travel
After a long time keeping safe by staying at home we cannot help our selfs but to dream about travelling again. There are so many wonderful countries worth visiting so it can be difficult to decide where to go when we are allowed to travel again.
Traveling has been a big part of peoples lifes, going all around the world experiencing different culture and seeing new places while working down our bucket list. There is no doubt that the Coronavirus has had a big impact to the whole world. It may change many travel plans for the future and will make everybody think more about where to travel and what countries to visit in the near future. Travelling to a safe country that is not so crowded with wide open spaces, untouched nature and fresh air. Someplace where it is possible to relax and enjoy each moment to the fullest.
Soon we will be able to turn these dreams into reality and start to travel again. The question many will ask, where should we go after this is over ? Iceland is a small, safe country that is easy to travel to. Largest part of the country is nature and Reykjavík, the capital is not like other capitals due to its size. So finally it is a true strenght for Iceland to be a small nation. Iceland should be at the top of the list, and here are 5 reasons why you should visit Iceland after the Coronavirus.
 5. Iceland has no large cities.
 In Iceland you will find that everything is small compared to other nations. This means that cities and towns in Iceland are small so there is always enough space for everyone to go around exploring each city or town. When we look at Iceland's capital Reykjavík it holds around 126.041 residents or aprox. 34% of Icelandic population. Reykjavík and surrounding municipality have over 60% of all residents living in Iceland. So if you are looking for a country with more space, Iceland is the perfect place to visit.
 4. Iceland is perfect in all seasons
Weather you are looking to travel over the summer time or want to experience a true winter, Iceland is perfect to visit all year around. Iceland offers a long winter and a summer that has daylight 24/7. Visiting Iceland during the winter time is a great idea, usually it has less tourist over the winter months offering more freedom to explore its popular places. It is important to dress appropriately and to have a good rental car. We do recommend to look at 4x4 vehicles with studded winter tires for the winter drive. The winter offers shorter days and more darkness but the snow does brighten the day as well as the glorious northern lights.
When visiting Iceland in the summer you will experience having daylight at all hours. The midnight sun is truly a wonderful thing where you can take long walks around Reykjavík or enjoy some of Iceland's amazing hotspots. Travelling to Icelandic highlands is great while visiting during the summer months. If you are a nature lover then hiking in the highland is truly a must thing to do. Weather it is in Landmannalaugar or Askja it will be an experience that will live forever. We do recommend to travel around the highlands in a 4x4 Camping vehicles.
 3. Iceland has space for everyone. 
If there is one thing Iceland does not lack, it is space. In Iceland there are 366.000 residents, and having over 60% of the residents living in Reykjavík and near by municipality creating endless space outside this area in Iceland. So you can enjoy some of the amazing views that Iceland has to offer without being around to many people.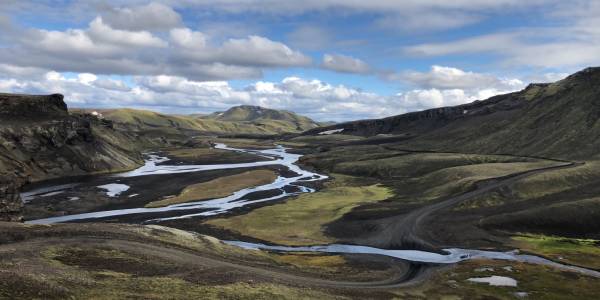 2. Icelandic nature
One thing is for sure, when driving around Iceland you will notice how the landscape keeps changing and you always seem to find new amazing nature that Iceland has to offer. So no matter how long you drive, or where in Iceland you go there is one thing for sure, that you will experience something different that is hard to explain. Photography in Iceland is very popular and the Icelandic nature creates endless options to play around with the camera. 
Iceland is full of waterfalls, mountains, glaciers and hot springs. Planning a trip to Iceland can be challenging as there are so many places that are worth visiting. Weather it is the Blue Lagoon, Golden Circle, Black Sand Beach or small uniqe towns like Akureyri, Reykjavík or Siglufjörður and the highlands like Landmannalaugar, Askja, or Kjölur its seems that no matter where you go, there is always something worth seeing. We do recommend to rent a vehicle to travel around Iceland. 
 1. How Iceland has beaten the pandemic 
The government and health experts of Iceland have truly done an amazing work of controlling the coronavirus. No country has done more testing then Iceland, with around 13% of the nation tested by the end of April. Due to the size of Iceland it has been able to work closely with it's people making sure that everyone follows instructions given by the government and health experts. Iceland has reached its peak and has only a few active cases of coronavirus with close to no new cases being discovered eventough there are still plenty of tests being done. Icelandic government and health experts are already starting to loosen the restrictions from 4th of May. 
How Iceland has handeled the pandemic is truly admirable, making it the country worth visiting.