Top 10 golf courses in Iceland
Playing golf in Iceland is a unique experience. Playing golf in the midnight sun. There are 61 golf courses in Iceland surrounded by Icelandic nature. Here are our top ten golf courses in Iceland
Golf has become one of the most popular sports in Iceland, in fact, it is in second place after football. There are 61 golf courses in Iceland, 15 18-hole golf courses, and 46 9-hole golf courses all over the countryside. Iceland is the perfect destination for a golf trip. The best time to play golf in Iceland is in August. The golf season in Iceland is from May to September. Winter golf in Iceland has also gained popularity. Playing golf in Iceland in October is the last month where you will still be able to play on the main greens on the golf courses. For the wintertime, the golf clubs in Iceland close the greens but many of them will have special ' winter greens'. This is done to protect the grass during the wintertime. It is dependent on the weather conditions when the golf clubs will open the golf courses and when to close them. If you are planning on playing golf in Iceland, here you will find some of the best places to golf in Iceland.
Hvaleyravöllur (Keilir Golf Club)  
In 1967 Keilir golf club was founded in Iceland. Hvaleyrarvöllur is located by the coast in Hafnafjörður, only a few minutes drive from Reykjavík. The first 9-holes are played in lava and the last 9-holes are played along the ocean. This gives the golf course great variety. Playing in the lava calls for stability in the first shot, if you miss the fairway you might get into trouble due to the lava surrounding the course. The last 9-holes give you more width for the tee shot. It can however be challenging to play due to the ocean and the wind. Hvaleyravöllur has been under many changes in recent years, in 2019 and 2020 they opened new holes at nr 13, 14,15, and 16. These changes have made a great impact on the golf course making it more fun and more challenging at the same time.
Grafarholtsvöllur (Reykjavik golf club) 
Iceland's first golf club was founded in 1934. The foundation of the golf club came from Denmark as many Icelanders moved there for education and got to know golf during their stay. In 1963 Reykjavík golf club began making Grafarholtsvöllur located right in Reykjavík city and with the consistent work over the years it has been recognized worldwide for its quality. The golf course is 5.962 meters and can be challenging to walk due to the hills on the golf course.
Kiðjaberg
Kiðjaberg is located 80km from Reykjavík, with only around a 70-minute drive from downtown Reykjavík. Kiðjaberg is a golf course that offers unique views of Iceland and is built to fit into the landscape naturally. The golf course is located right next to Hvítá, a river in which the famous waterfall Gullfoss is featured. It is an 18-hole course that is 5.429m on yellow marks. It is par 71 and has many steep hills to play both up and down. I recommend taking a golf car while playing Kiðjaberg.
Vestmannaeyjar Golf Course
The beautiful golf course in Westman Islands is a course that no one should skip when planning a golf trip to Iceland. It is the third oldest golf course in Iceland. It was founded in 1938 and was originally only 6 holes. After the volcano eruption in 1973, the course had to be changed due to volcanic ash covering the golf course. The course is played along the Atlantic Ocean providing views that have to be experienced to believe.
Leirdalsvöllur (GKG Golf Club) 
GKG golf club was founded in 1994 when two golf clubs joined forces to create one of the best golf courses in Iceland. Today it is located both in Garðabær and Kópavogur.  This 18-hole course has some challenging holes that need a strategy to play. The staff at GKG have made incredible work over the years. Today GKG has one of the best practice facilities in all of Europe with over 20 Trackman simulators and three large putting and chipping greens inside. This allows golf enthusiastic golfers to practice and play golf all year in Iceland. GKG golf course is also available in the Trackman simulator.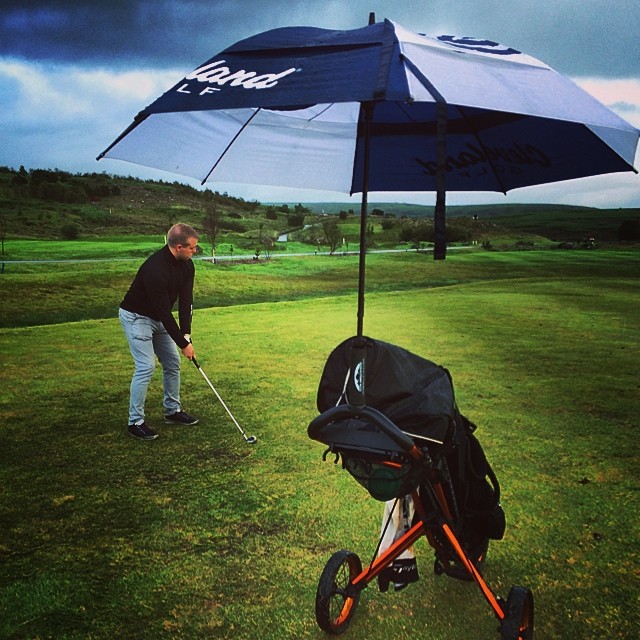 Jaðarsvöllur (Akueyri Golf Club) 
Jaðarsvöllur is located in Akureyri in the north of Iceland. This golf course is a 18-hole Par 71 is surrounded by mountains and views one has to see to believe. The layout of the course has been perfectly adjusted to the landscape with water, trees, and challenging holes to play. 
Brautarholt Golf Course 
This golf course has been recognized as the top 100 best golf courses in the world. It is located a 20-minute drive from Reykjavík and is played along the seashore. This course is 12 holes, with each hole perfectly built around the landscape. It has some very challenging holes and in wind, a par-3 hole might need a driver to get on the green. If you would like to experience midnight golf in Iceland, then you should visit this golf course. It will be an experience that will never be forgotten.
Urriðarvöllur 
Urriðarvöllur is a golf course that is a part of Oddur Golf Club. Located within the capital limits it will make you feel like you have driven far into the countryside. It is quiet, surrounded by moss, lava, and mountains. It opened in 1997 and has been recognized as one of the most entertaining golf courses in Iceland.
Leynir Golf Course 
Leynir golf course is located in a small town called Akranes, only around 40 minutes drive from Reykjavík. The golf course is rather flat but is known for its amazing views and great putting greens. It hosts many of Iceland's top tournaments due to its quality. With bunkers, water, and trees around the course, it is a demanding but yet interesting golf course to play.
Hlíðarvöllur Golf Course
Hlíðarvöllur is located in Mosfellsbær, only 10 minutes drive from Reykjavík. The Icelands champion tournament was held in Hlíðarvöllur in 2020 with great luck. It has gone through many changes in recent years that have turned out perfectly. Hlíðarvöllur is true eye candy, with views over Mt. Esjan, the seashore and on clear sky days, you can see the glacier Snæfellsnesjökull.
How much does it cost to play golf in Iceland?
Golf prices in Iceland can vary from location within the country. In the capital, area prices tend to be higher than in the countryside. Below you will see prices for 2021 for these top 10 golf courses in Iceland, 
Hvaleyravöllur – 12.990 ISK (Per round)
Grafarholtsvöllur – 11.400 ISK (Per round)
Kiðjaberg –  Weekdays: 6.000 ISK, Weekend: 7.000 ISK (Per round)
Vestmannaeyjar Golf Course – 7.500 ISK (Per round)
Leirdalsvöllur –  10.900 ISK (Per round)
Akureyri Golf Club – 8.500 ISK (Per round)
Brautarholt Golf Course – 11.000 ISK for 18 holes, 8.900 ISK for 12 holes (Per round)
Urriðarvöllur – 13.100 ISK (Per round)
Leynir Golf Course – Weekdays from 08:00-13:00: 4.500 ISK. Weekdays after 13:00 and weekends: 8.000 ISK (Per round)
Hlíðarvöllur Golf Course -  11.900 ISK (Per round)