Top 7 Road Trips to Take in Iceland - Best Scenic Drives
Iceland is full of beautiful scenery where ever you go. In this article, we will go over what we consider to be the top 7 most scenic drives in Iceland.
When planning a self-drive road trip in Iceland, first of all, you need a car rental. If you plan on sticking to the main ring road in Iceland, a regular economy or compact vehicle will be enough for the drive from May to October most years. If you want to venture to the highlands and take some F-roads or are planning your visit over the winter months, we highly recommend a 4x4 car rental vehicle for the drive. Well if you are planning to go into the highlands, the 4x4 vehicle is actually needed if you want to drive there yourself, but it is possible to also catch a bus into some parts of the highlands as well if you are not comfortable driving there yourself.
Golden circle
The most popular road trip to take in Iceland is of course the Golden circle to Þingvellir, Gullfoss waterfall, and Geysir and therefore we will start there. This drive is amazing and a must when visiting Iceland. Can you really say that you have gone to Iceland if you did not go to the Golden Circle?
The Golden Circle route is convenient, roads are well maintained and the route is not too long and only about a total of 3 and a half hours with these three stops along the way to break apart the journey. That time is without the time spent at each location.
Many people prefer driving the Golden Circle themselves as then they could spend as much time as they want at each location.
If you plan on driving the Golden Circle yourself, the route we recommend taking can be seen in the photo below. This way you can make a few additional stops along the way, like for example at Kerið Volcano Crater, Skálholt Cathedral, and the town Hveragerði. 
West Fjords
If you want to avoid the most popular and visited spots in Iceland, we would highly recommend going to the West Fjords. Full of small beautiful villages and towns, bumpy roads, and amazing fjords make this one of the best scenic drives in Iceland.
The West Fjords are also full of waterfalls to visit, great hiking spots, and hot springs, just to mention a few.
So how much time should you spend in the west fjords? You could spend a whole week in the West fjords and have so much to see and do, and we would recommend reserving 3-4 days for the journey. The roads are long with all the fjords you have to go through, however, the drive is worth it! The scenery on the way is amazing so driving between destinations will never be boring.
If you are visiting in the summer, make sure to stop at Látrabjarg cliffs where you can spot the puffins from early April until early September. Also, a must is to check out the amazing Rauðisandur beach or "Red sand beach. The colors of the sand are amazing and seem to change depending on the sunlight. Rauðisandur is a very popular place to visit for the locals as this is one of the few places in Iceland where we have any other color of sand than black.
Of course, the biggest icon of the West fjords is Dynjandi waterfall which is in many people's opinion, the most beautiful waterfall in Iceland. It cascades around 100 meters and some say it looks exactly like a bridal veil. There is a walk to reach Dynjandi and the view along the way is amazing with 6 smaller waterfalls along the way. 
During your visit to the West fjords, you can also catch a ferry to visit the remote Flatey island. The ferry departs from the town of Stykkishólmur or Brjánslækur but do know, that no cars are allowed on the island, so you do have to leave that behind. When in Flatey island, you can enjoy the beautiful old buildings that have been well reserved, take a stroll around the whole island as well to admire the birdlife that consists of puffins, arctic terns, and more.
South coast
The south coast of Iceland is the most popular for travelers to visit when in Iceland. The spot is ideal with many amazing spots to visit on the way, like for example the glacier lagoon, Reynisfjara black sand beach, and the amazing Seljalandsfoss so no wonder it is as popular as it is.
So how long should you plan for traveling the south coast you might ask? We recommend reserving at least a whole day or two for the trip, depending on how many spots you want to visit. You could do the basics in just one day but there are also plenty of other stops you can make on the way if you want or can, extend it to 2 days.
You can find all the best features of Iceland on the south coast, everything from volcanoes, to hot springs, waterfalls, and glaciers.
The Golden circle can be the start of your journey when planning to take the south coast route and from there keep going to the beautiful small town Vík or even if you want to drive further, to the small town Höfn. 
The first stop along the south coast when heading from Reykjavík is the amazing Seljalandsfoss and not as known Skógafoss waterfalls. They are right next to each other, but the presence of Skógafoss waterfall may not be as clear as it hides behind a rock valley so you can not see it from the main road as you can do with Seljalandsfoss. We highly recommend visiting both as even though Seljalandsfoss may be way more popular and known, Skógafoss does not disappoint. 
Then, if you want to add another amazing waterfall to your list, you can visit Glúfrabúi waterfall which is not even one kilometer away from Seljalandsfoss waterfall. To get to Gljúfrabúi is a small hike where you have to enter a small and narrow canyon and into this canyon falls the amazing waterfall. We recommend putting on your waterproof clothing for both Seljalandsfoss and Glúfrabúi as you can get very wet from the mist surrounding them.
On the south coast drive, you will also drive by a couple of Iceland's glaciers and you can catch a tour to go to one of these glaciers or ice caves. The glaciers are Mýrdalsjökull, Sólheimajökull, and of course the great Vatnajökull glacier.
The next place to visit is the D-3 plane wreck. Situated in the black sandplain called Sólheimasandur and to get to the wreck, there is a good hike from the parking lot. You are not allowed to drive up to the wreck to preserve the beautiful nature that surrounds but the hike is easy for those in good health.
Now you should be drawing close to the town Vík. Before you reach the town you can make a stop to see the beautiful Dyrhólaey cliffs where you can enjoy the beautiful scenery and watch the seabirds in their natural habitat.
When in Vík, make sure to visit Reynisfjara black sand beach, you can not miss it, with its big, famous basalt columns and the beautiful and majestic rock formations in the ocean. These rock formations according to old Icelandic folklore, are two trolls that did not get home in time and were turned into stone by the rays of the sun. 
Reynisfjara black sand beach is a beautiful and breathtaking place to visit, however, as beautiful as it may be, it also stores great dangers with its sneaker waves that can even make their appearance on a calm weather day. These sneaker waves are due to the fact there is such a far distance from this exact place in Iceland and the nearest shoreline, so there is nothing along the way to break down the waves, causing them to often reach very high up on shore and they can drag you along with it. Unfortunately, the latest casualty of these sneaker waves was only in 2021. 
Some travelers head back from Vík, however, we highly recommend it if you have the time to go all the way to Höfn. 
Between Vík and Höfn, you will find, for example, Skaftafell Nature reserve where you can enjoy the beautiful landscape and great hikes that you can find at all levels of difficulty. Skaftafell nature reserve was decided to be a natural park only due to its beauty, and that is why we recommend stopping there.
 Jökulsárlón glacier lagoon is one of the locations along the way from Vík to Höfn and you could not miss it! Situated right by the ring road, you can enjoy the beautiful deep lake that is filled with icebergs that have broken off the Breiðamerkurjökull glacier. You can enjoy the view from offshore, or you can catch a boat tour that will take you around the lagoon and even up close to the icebergs. 
Across the street from Jökulsárlón glacier lagoon, you will then be able to find the Diamond beach. This is where the icebergs have washed down the river to the ocean and then the ocean has pushed these icebergs back to shore, making it look like a beach, full of big diamonds.
Diamond circle
Many people have heard of the Golden Circle in the south of Iceland, but have you ever heard of the Diamond Circle? If not, keep on reading as we will go over it here. The Diamond Circle is situated in the North of Iceland and includes amazing spots to visit.
The first spot we will go over is the spectacular Goðafoss waterfall, which directly translates to "Waterfall of the Gods". This historical waterfall is located right off of route 1 (The ring road) and is 30 meters wide and has a drop of 12 meters. The water is green as it is a glacier river from the big glacier Vatnajökull.
You can get really close to the edge of the waterfall, so be careful as the river is quite powerful and the water is ice cold.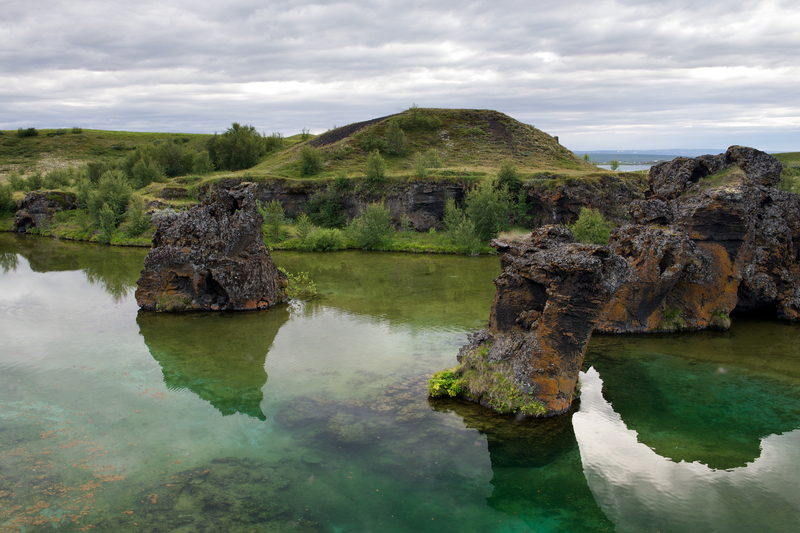 Lake Mývatn is the next stop along the journey. You do not have to stop there long, although you may want to enjoy as much of this place as possible, in some parts of the year, this place will be full of midges. Even with the midges, it is a sight like no other in Iceland and it can make you feel like you entered into another world. Lake Mývatn is preserved and full of birdlife, and if you have not already, we recommend stopping in the supermarket to stock up on food for the journey. 
 Mt. Námafjall with its boiling mud pools is our next stop. Well, if Mývatn did not make you feel like entering a different world, this place definitely will! You may feel like you are standing on the moon based on its surroundings. There is a strong smell of sulfur in the air but you will be glad that you made the stop as it is worth it!
Dettifoss waterfall and Jökulsárgljúfur canyon are our fourth stop along the way. 
Dettifoss waterfall also has its origin from the Vatnajökull glacier and has a reputation of being the most powerful waterfall in Europe. The drop of the waterfall is a whopping 45 meters and the width is 100 meters. You can see the waterfall from either side, however, the west side has better access with only a 15-minute walk from the parking lot to the waterfall.
Hljóðaklettar is our next stop and translates to echo-rocks are a cluster of columnar rock formations, located in Jökulsárgljúfur canyon. 
A glacier river that still runs through, has been forming these so-called volcanic plugs over many centuries. You will find many trails to choose from in Hjóðaklettar, but the one we recommend is called Troll and it will lead you to an amazing rock shaped by these basalt column formations and that is a sight to see!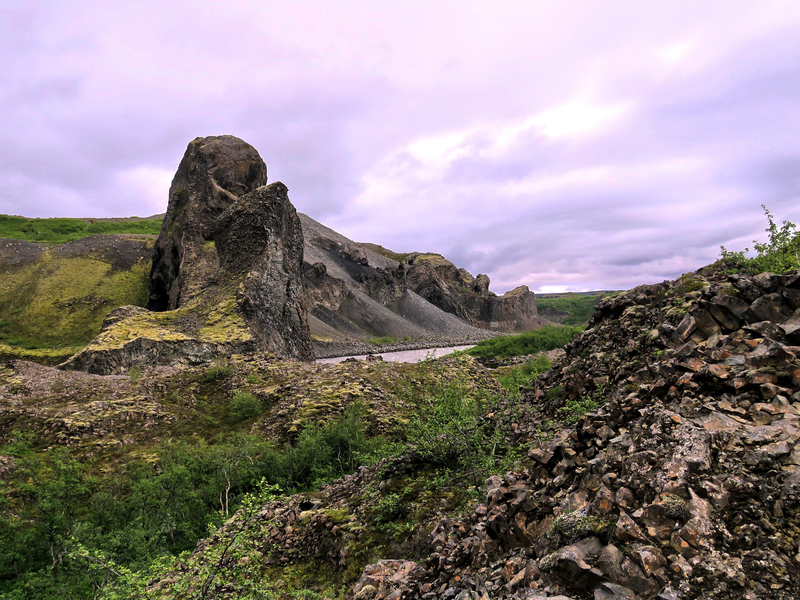 Ásbyrgi Canyon has a great story behind it, as it is shaped like a horseshoe, it is said that Sleipnir, horse of the nordic gods came too close to the earth in this location and actually stepped down, leaving behind is an imprint and Ásbyrgi canyon is said to be the shelter of the gods.
If you are camping on your travels here in Iceland, we do recommend staying the night in their camping ground and from there you can go on great hikes. Iceland is most often windy, but this place is sheltered by the cliffs and trees that usually make the weather really comfortable there. 
At the bottom of Ásbyrgi, you will find Botnstjörn which is just beautiful with the spectacular high cliffs surrounding it. 
If you have come to Iceland in hopes to see some puffins, you just might be in luck. Our next destination is Tjörnespeninsula which is full of puffins from April until about mid-August. 
At Tjörnes, you can also check out the beautiful Skeifárfoss waterfall, and then the beach is known for its layers of fossil shells.  
Húsavík, the whale-watching capital of Iceland is our last stop on the Diamond Circle. This cute little village offers great whale watching tours and they even have a whale museum that we recommend you check out. The church is also a symbol of the town and it was built in 1907 and we recommend visiting the church if it is open for visits.  
Snæfellsnes peninsula
The Snæfellsnes peninsula is often said to be the whole of Iceland in miniature, and that is due to the fact that you can find everything Iceland has to offer on only this one peninsula. There you can find a glacier, volcano, waterfalls, and more amazing sights, making this an amazing scenic drive in Iceland.
The drive around the Snæfellsnes peninsula could be taken from Reykjavík, all in one day. We, however, would recommend spending 2 days on the travels, just so you do not have to hurry and skip any of the sights.  
Our first stop along the way the Snæfellsnes peninsula from Reykjavík is Snæfellsjökull national park. The park surrounds the Snæfellsjökull glacier and stretches from there, all the way down to the ocean, and it is the only one that does so. You may have guessed this national park's main attraction and it is, of course, the Snæfellsjökull glacier. 
Another great spot to visit is the famous Kirkjufell mountain that you may have seen in the TV series Game of Thrones. The beautiful mountain was long before that show, very popular with travelers and photographers due to its beauty and unique shape and it is definitely worth a visit. 
The most popular place to stop and take pictures is by the side of the road close to the town Grundafjörður as there you will find a small waterfall, called Kirkjufellsfoss waterfall that many find the perfect foreground to a great photo of the mountain in the backdrop. 
Snæfellsnes peninsula has a good number of small towns and villages that have their own unique atmosphere. We highly recommend going to the village Arnarstapi. A tiny town with a beautiful pyramid-shaped mountain in the background, amazing sea view shore with rock formations, and then to top it all off, the town is surrounded by lava fields. The town is very small with only a few houses and an information center.
 Silver Circle Iceland
You may have never have heard of this route as it is far less known about than the famous Golden Circle route. This route is located in the west of Iceland and can be easily made from Reykjavík in one day.
The route starts with a stop at Deildartunguhver hot spring. This hot spring is the most powerful geothermal spring in all of Europe and the temperature of the water is over 97°C (200°F).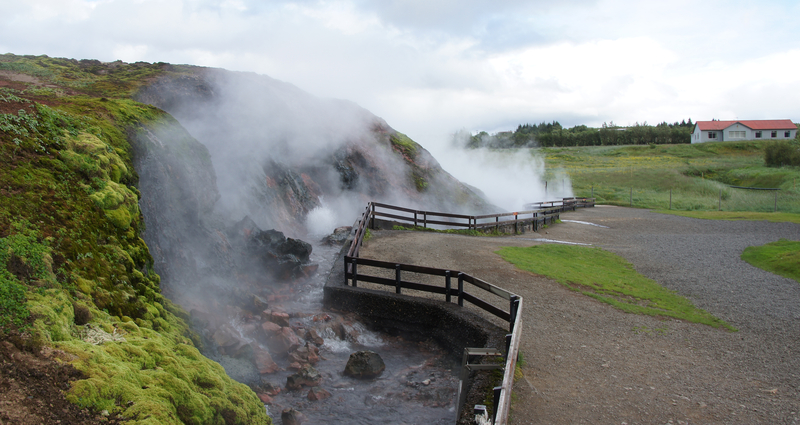 While at Deildartunguhver hot spring, you can stop at Krauma Geothermal baths and take a dive in the very same water that you saw earlier in the hot spring, however, of course, the temperature has been brought down to a more comfortable degree.
On your way out, you can purchase some locally grown produce like tomatoes and carrots that are grown in the greenhouse that is heated by the hot springs. 
The next stop along the Silver Circle is the historical site at Reykholt. This place is filled with Icelandic history and was an educational, ecclesiastical, and cultural center back in medieval times.
Reykholt was the home of Snorri Sturluson that was a politician, saga writer, historiographer, poet, and one of the most powerful and richest men in Iceland. He lived his life and dies in Reykholt in the years 1179-1241.
Then a short 15-20 minute drive from Reykholt, our next stop is Hraunfossar waterfall. This waterfall is not like any other you will find in Iceland as it seems like the water is just appearing from underneath the trees and lava fields. The water actually originates from the river Hvítá as well from freshwater of the many springs that are welling underneath the lava field.
Right next to Hraunfossar is also another waterfall that is called Barnafossar waterfall, or Children's fall. Barnafossar waterfall is nothing like its next-door neighbor and flows between a narrow opening between 2 cliffs. The waterfall is small, yet powerful with its force between the cliffs. 
Húsafell is a great place that is a part of the Silver Circle route. There you can find a great campsite, hotel, swimming pool, and a small grocery store and restaurant. A great place to have your last stop along the way.
There are also 2 other attractions that are a part of the Silver circle that you can choose to visit as well or leave it at that. These attractions are the Into the glacier experience at Langjökull glacier, where you can go through a man-made tunnel through the glacier, and also the Vidgerlmir lava tube. These 2 destinations are a great experience, however, not mandatory when traveling the Silver Circle. 
Kjölur
Duration – Kjölur route can be driven in one day. But taking 2 days, while camping in Kerlingafjöll and at Hveravellir is highly recommended.
Kjölur is an area that is located between Langjökull and Hofsjökull. It is a mountain road, also known as F-road in Iceland. This means that you will need to have a 4x4 vehicle to drive this amazing road. It is only open during the summer months. The roads are bumpy, but one of the best F-roads to drive in Iceland.
What is ideal about this road trip is that you do not need to worry about any river crossings.
Kjölur route begins by Gullfoss and heads up to Kerlingafjöll. Kerlingafjöll is truly an amazing place in Iceland that everybody needs to visit. There is a camping ground that is perfect for those traveling with a roof tent. There is also a small coffee shop with toilet facilities. We strongly recommend spending one day at Kerlingafjöll, driving up to the top and taking a short hike around the area where you will see the breathtaking landscapes that make you feel like you are on another planet.
After exploring Kerlingafjöll mountain, head up to Hveravellir. Whether you plan to visit Hveravellir for the views or just want some time off, it is important that one does not miss out on this natural wonder. The hot springs are certainly worth seeing as they exist in an untouched environment with no crowds!