All You Need To Know Before Driving Iceland's Ring Road
Planning on driving the ring road of Iceland? Here in this blog, we go over everything you need to know before your journey around Iceland.
Knowing the traffic rules here in Iceland just might help you to keep safe on the ring road and even from getting some expensive fines. So reading up on them is something we recommend doing before your travels. Here in this blog, you will find answers to at least some of your questions, but if you have any further questions that we do not go over here, please do not hesitate to contact us.
How long does it take to drive the Icelandic Ring Road?
So, how long is the Iceland ring road? The ring road is 1,333 km, so you could drive it in 12-13 hours without any stops. However, we would never recommend doing that. To make the most out of your Ring Road adventure. We would recommend taking a week or even more for the trip. That way, you do not have to rush or cut anything out of your itinerary.
Which way should I drive the ring road in Iceland?
You can take whichever way you like. However, most people travel anti-clockwise, visiting the south coast first. So if you want to avoid traffic over the summer months, we recommend going up north first and ending on the south coast of Iceland. Or you can follow the weather as most Icelanders do.
On which side of the road should you drive in Iceland
In Iceland, you should drive on the right side of the road, and if you want to overtake other vehicles, you use the left lane.
Do I have to use the headlights all day in Iceland?
Yes, the car headlights should always be switched on during the day and night in Iceland. Icelanders are often so used to everyone having their headlights on 24/7 that you may be invisible to them if you have them turned off during the day. And also, if you do not have them on, you may get a fine. 
Can you drive the ring road in Iceland during winter?
Yes, it is possible, at any time of year. You will most likely experience the most snow from December until February. However, Icelandic roads are well maintained, so they are cleared frequently. We would mostly recommend traveling the Icelandic ring road from March to November as then the weather is less likely to hinder your travels. If you intend on driving the road in winter, we highly recommend renting a 4x4 vehicle just to be on the safe side. Also, check out our blog on why we recommend renting a 4x4 car in Iceland. 
Is the Ring road in Iceland worth it?
If you want to see and experience most of what Iceland has to offer, then yes, definitely! The Icelandic Ring road is the perfect way to cover the most ground. Wherever in Iceland you are, you are never too far from the next great spot to visit, and even the view from inside the car is often breathtaking. For example, when driving from the capital on your way to Vík over the summer, you will drive through a beautiful Lupine field that will absolutely take your breath away.
Is it hard to drive the Icelandic ring road?
No, it is not hard to drive the Icelandic ring road, most of the Icelandic Ring road is paved and easy to drive. The speed limit on the Iceland ring road is 90 km per hour. However, there is a small part on the east coast of Iceland that is a gravel road, but it is not long and just keep in mind that on gravel roads, the speed limit is 70 km per hour.  If you are careful and respect the speed limits, then you are very likely to have a safe and happy trip, with no fines!
Is it easy to rent a car in Iceland to travel the Iceland ring road?
Yes, very easy. There are loads of car rentals in Iceland to choose from, and if you have any questions, you can just send them an email. You do not have to rent a 4x4 vehicle for the ring road, however from October until February, we do recommend it due to possible heavy snow in some parts of the country. Find out all you need to know about renting a car in Iceland
We here at Icerental 4x4 are pleased to be of any assistance, and you can always contact us using our email address info@icerental4x4.is
What are F-roads in Iceland?
F-roads are mountain roads here in Iceland, so they are not a part of the Icelandic Ring Road. They are not maintained regularly and are closed for most of the year. They are usually only open from late June to the middle of July until Late September to the beginning of November. We recommend keeping an eye on the road conditions before taking off for the day on these roads using the website www.road.is
If you intend on going on any F-roads in Iceland, like F35 to Kerlingafjöll or F905 into Askja, please know that you have to have a 4x4 vehicle for your journey, and there is no car rental in Iceland that allows their vehicle on road F249 into Þórsmörk. 
How much does it cost to drive the Ring Road in Iceland?
That depends on the vehicle you want to rent. The average cost of a regular car is from 60-550 EUR per day or more. And if you want to rent a camper, then that is everywhere from 150-550 EUR per day, depending on the vehicle and time of year you are planning to visit.
Then there is also the cost of accommodation, which is why it is so great to travel in a camper as then that is not even an issue as you have it with you where ever you go. The price for accommodation per night is everywhere from 50-1.000 EUR per night.
The price for petrol when this blog is written ranges from 320-355 ISK and diesel from 323-350 ISK. However, that is constantly changing, and to see what the price is when you are reading this blog, you can click here to see the current price. 
What is the best month to visit Iceland?
That depends on what you want to see and experience in Iceland.
If you want to see the midnight sun and have warmer temperatures, then visiting Iceland In July and August would be the best time for you, and if you want to see the Northern Lights, then visiting in February, March, September, or October is the best time. There are a lot fewer travelers over the colder months, so if you are focusing more on having fewer people around, then visiting in November and the beginning of December is the best time for you.
Iceland ring road in October
We want to include this as we have had a lot of inquiries about traveling the ring road in October. Traveling the ring road at that time is fairly straightforward. Of course, some parts of the country may be covered in snow at that time, but the weather is usually still calm.
Visiting Iceland in October is an excellent choice if you want to experience the Northern Lights as the sun has started setting sooner, you will get warmer weather than in December- February, and there are fewer chances of storms. The daylight is still around 9 hours in October, with sunrise around 08:00 and sunset between 18:15-30.
The average temperature in Iceland in October is from 7-2° Celcius (44-36° F)
What to wear for an October visit to Iceland?
We recommend having enough layers to wear to visit Iceland in October. Have some base layers, good sweaters, gloves, a hat, and a thick coat or jacket. Warm footwear is also essential. You can read more on how to dress for any time of year in Iceland. 
Tips to keep your vehicle in good condition.
Have a spare tire or repair kit. Not all car rentals in Iceland provide this for their rentals, but you can find information on that on their website or contact them to ask.
If you experience the high wind on your trip to Iceland, keep in mind to always park against the wind and always hold the car door with both hands as the wind gusts can sneak up on you and blow up the door. No insurance company in Iceland covers blown-up car doors, and the cost for this damage is hefty. 
Know the speed limit to avoid fines and arrive home safely after your trip. Off-road driving is illegal in Iceland and can also cause damage to Icelandic nature that may take centuries to heal.
When driving the ring road, please watch out for the sheep. They can be subtle and jump onto the road without any notice.
How old do you need to be to rent a car in Iceland?
That depends on the car rental company you choose for your rental. Here at Icerental, you only need to be 20+ years old. However, we do allow drivers 18-19 years old, but then we charge an additional "Young driver fee"of 6 EUR per day (However, never more than 60 EUR).
Car rentals in Iceland are often strict on the rule that you must have your driver's license at least 12 months in advance for your rental.
Which side of a double lane round-a-bout has priority in Iceland?
Even though there are no double-lane roundabouts on the Icelandic ring road, we wanted to include this question. The inner lane on two-lane roundabouts always has priority in Iceland. Many travelers are unaware of this rule in Iceland, so please be careful, as that can cause hazards in the Icelandic double-lane roundabouts.
Speed cameras in Iceland
These cameras can be found all around the country. However, before you get to them, there will always be a blue sign to indicate them. Speeding tickets are never fun and especially in Iceland. They may land you a hefty fine so keep an eye out for the signs and know the speed limit.
Icelandic Road signs
There are a few road signs that you might never have seen before. Here are some of them and what they mean.
This road sign here means "a blind hill" up ahead. These are sometimes single-lane hills, so you better drive carefully as you will not see if there is another car coming from the other side.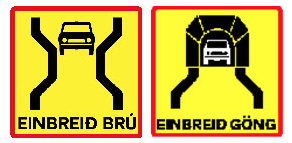 Icelandic single-lane bridges and tunnels
These signs here mean a single-lane bridge or a tunnel up ahead. When driving through, the vehicle that comes first goes through first. However, if you doubt, wait and let the other one go first. 
In a single-lane tunnel, however, if you have oncoming traffic and there is a passing place to your right, then you will be the one that is obligated to pull in to let them pass. In some tunnels like Múlagöng, which is situated between the towns Dalvík and Ólafsfjörður, there is one way that will always have priority.
Why are roads often elevated in Iceland?
If you have driven the Icelandic ring road, you may have noticed that the roads are most often elevated, sometimes up to 2 meters. It prevents snow from blowing back onto the road in winter.
Iceland is not known for calm weather; therefore, if it were not elevated, the snow plowing would never stop as the snow would blow right back onto the road.
Iceland ring road itinerary and map
Here are some ideas for activities and Iceland ring road attractions. Most of them are close to the ring road, and others are a little detour.
Diamond beach 
Situated right by the ring road so if you intend on driving it, this should be on your itinerary. Also, Jökulsárlón glacier lagoon is only a stone's throw away, so you get a 2 for 1!
Jökulsárlón 
As mentioned above, the glacier lagoon is right by Diamond beach as the ice from the glacier lagoon goes with the stream to the ocean and washes up on the shores of Diamond beach. This is an unmissable stop for anyone traveling the ring road of Iceland!
Seljalandsfoss and Skógafoss 
These fantastic waterfalls can be seen from the ring road. However, we do believe that you have to experience them as well. Or at least Seljalandsfoss! You can take a hike and walk behind the beautiful waterfall, and that is an experience that we highly recommend. Whether you are visiting in summer or winter, bring some waterproof clothing with you.
Vestrahorn
Located just off route 1 in east Iceland. To appreciate this beautiful mountain, you must walk down to Stokksnes. From there you will have a great view of the beautiful mountain. Stokksnes is private property and to enter. You are going to have to pay a small fee. Vestrarhorn is a unique natural wonder and a great place to experience as it is less "touristy" so you will probably not have many people around.
Seyðisfjörður
This beautiful small village is located on the east coast of Iceland. Known for being colorful and surrounded by incredible nature. Surrounded by mountains, this small town is a must-see at any time of year when traveling the ring road in Iceland. On your drive from the main road to the small village, you will also see a small but beautiful waterfall just by the road. This waterfall is called Gufufoss or "Mist waterfall, " and if you ever see the waterfall, you will see why.
Dettifoss
This fantastic and powerful waterfall is located only a 30-40 minute drive from the ring road. Dettifoss is said to be the most powerful waterfall in Europe and is also often visited when people travel the Diamond circle. If you are in the region, this waterfall is a must-see. Dettifoss is fed by the mighty glacier river Jökulsá á Fjöllum that flows from the largest glacier in Iceland, the Vatnajökull glacier. Dettifoss has a fall of 45 meters (150 feet) and is 100 meters (330 feet) wide.
Ásbyrgi
Ásbyrgi canyon is a great place to stay the night while traveling on a camper. If you are not traveling on a camper but looking for a great hiking spot, we recommend stopping in Ásbyrgi Canyon. It is approximately a 1-hour drive from the ring road and will not disappoint. This spectacular horseshoe-shaped canyon in the northeast of Iceland is a fantastic sight. There are many great hikes to take there. You can take the easy hike of walking through the canyon, where you end at the Botnstjörn pond, or take the hike up onto the "Island" hill in the middle of Ásbyrgi. Everyone will find a route that is perfect for them.
Húsavík
Húsavík is only a 40-minute drive from the ring road in Iceland. Known for being the Whale watching capital of Iceland as the chances of you seeing a whale on a whale-watching tour is a whopping 98%! They also have a great whale museum with a real whale skeleton of a whale stranded onshore here in Iceland a few years ago.
You will also find great restaurants, hotels, and a camping site there.
Mývatn and Dimmuborgir
On your way on route 1, you will drive by Mývatn. Lake mývatn is a spectacular place to visit with amazing nature and many things to see and experience.
You can take a dip in Mývatn nature baths, visit the breathtaking Dimmuborgir Lava field or climb into Grjótagjá cave that you might recognize if you are a fan of Game Of Thrones, where Jon and Ygrette shared an evening together. Although please know that it is not recommended to take a dip in the water there as the water temperature is not monitored and can get too hot for a dip.
Goðafoss
Goðagoss waterfall is known to be one of the most spectacular waterfalls in Iceland. It is 12 meters in height (39 feet) and 30 meters in width (98 feet).
Hraunfossar/Barnafoss
Hraunfossar is different from most waterfalls you find in Iceland. They do not have big drops like many of the waterfalls in Iceland. However, they are no less impressive. They flow from the cracks of a beautiful lava field covered in vegetation.
Then right next to Hraunfossar, you will also see the small but rapid Barnafoss, which is very contrast to the smooth running Hraunfossar waterfall.
Reykjavík
Of course, we could not skip mentioning Reykjavík, the capital of Iceland, on this list. Reykjavík has a lot to offer, and you can find a few ideas in this blog here. *LINK Reykjavík has many excellent museums, like the Open-air museum, Saga museum, the National Museum, Whales of Iceland, Perlan – Wonders of Iceland, and many more! In downtown Reykjavík, you will also find many great restaurants and Cafés as well as Hallgrímskirkja, Harpa concert hall we also recommend visiting FlyOver Iceland, where you can soar over Iceland without ever having to hop on a plane. Here we also go over some last-minute activities in Reykjavík. 
Kirkjufell
One of the most photographed mountains in Iceland. Kirkjufell is located on the Snæfellsnes peninsula, near a town called Grundafjörður. It is a detour from Ring road, but we highly recommend it if you have enough time to check it out.
Hvítserkur
Hvítserkur is a 15-meter high basalt stack around 50 meters off-shore on the east coast of Iceland. It is only a small detour from route 1. There is a lot of birdlife on the basalt stack, making it look like it might be alive. The legend says that a troll that lived in the area wanted to tear down the church bells at Þingeyrarklaustur convent as the Icelandic trolls are not Christian. But on its way, it got hit by the sun rays of the morning sun, turning it into stone on the shore.  
Akureyri
Akureyri is the second biggest town in Iceland and is known to be the capital of the north. Akureyri has a lot to offer, as it has many great restaurants, museums, and swimming pools. The Christmas house has become a must-visit for the locals when traveling to Akureyri, and we highly recommend making a stop there. You will also find a cute little boutique by the Christmas house that sells locally-made products.
You will also find great swimming pools, two camping sites where you can stay the night, and an iconic church symbolizing Akureyri.
Secret route from the ring road in Iceland
If you are traveling to Iceland over the summer, we recommend taking a slightly longer route from Varmahlíð to Akureyri ( or the other way around). If you have the time, then you can experience more of what Iceland has to offer on this route with a stop on the way at the infinity swimming pool in Hofsós and seeing the beautiful fjords when driving through Dalvík, Ólafsfjörður, and Siglufjörður. We believe these small villages are one of the most beautiful ones in Iceland, with a lot to offer. The route we recommend is when driving from Varmahlíð, taking route 1 like you would when going straight to Akureyri, but then taking a left turn onto road 76, only a few miles in. Road 76 will take you along the fjords, passed Hofsós, and through Siglufjörður and Ólafsfjörður. When driving from Ólafsfjörður, you will carry on, on road 82 through Dalvík until you reach route 1 again, which will take you to Akureyri. 
Car Rental in Iceland
Find your car rental in Iceland with Icerental4x4. You can rent 2WD cars, 4x4 vehicles and Passenger vans. Get more information about Iceland in our blogs and read our Travel Guides about Iceland. Contact us today for your car rental in Iceland!