Renting a Car in Iceland: All You Need to Know
If you are planning on renting a car in Iceland, here is all the information that you need. We have researched and written about everything from how much it will cost to what insurance coverages you should purchase.
When we plan a trip to Iceland one of the most important things we need to consider is car rental. Since public transportation can be expensive and limited (Especially when travelling outside of Reykjavík) renting a car is the ideal option. It will give you the freedom to explore all of what our magical island has to offer. So when it comes down to renting a car, there are a few things that are important to consider.
Choose the right rental company
When you begin comparing rental cars for your trip to Iceland you will find a great deal of rent a car company. Our recommendation is that you choose a local car rental like Icerental4x4. By doing that, you will get a personal service and enjoy great communication when needed, before, during or even after your rental has finished.
Keep an eye on the Cancellation Policy
Each car rental company will have their own cancellation policy. The most common policy is 48hours cancellation, meaning that you can cancel up to 48 hours before the rental and get a full refund. During these covid times, many have brought more understanding to their cancellation policy. For example, at Icerental4x4 we have a covid policy, in case of a cancelled flight, or persons cannot travel due to covid we allow free cancellation until the rental should begin.
Make sure your offer has Unlimited Mileage
The most common policy in Iceland is unlimited mileage. But you may find cheap deals with limited mileage. Iceland is a small country, but the island is not so small so having unlimited mileage can both give you more freedom and save you great money in the end.
Choose insurances that suit you best
This is probably the most important thing to keep in mind when selecting your car rental. Iceland is an expensive country, cars and car parts are no exception there. With its challenging weather conditions as well as road conditions choosing the correct insurances can play a vital part in your holiday in Iceland. In general, Iceland has a high self-risk included in its Collision Damage Waiver. Self-risk means the amount of money the renter would need to pay in case of damage. Additionally, you will see insurances that are unique for Iceland such as Gravel Protection and Sand and Ash Insurance.
At Icerental4x4, we provide three insurance packages available for purchase. Called Silver, Premium and Platinum insurance packages. Our recommendation is to select the Premium package, with this insurance the self-risk has been minimised and you would have Gravel Protection as well as Sand and Ash's insurance included. Since we can never predict the weather conditions and road conditions in Iceland, regardless of what time of the year it is. Having the right insurance can make a big difference.
Pay in Icelandic Króna
When you come to the rental desk and need to pay for the rental or any extras you may get the option to pay in your local currency or in Icelandic Króna. We always recommend selecting the Icelandic króna. The reason is that if you select your currency, your credit card or bank will apply higher exchange rates which will make a difference in your rental price is high.
Keep an eye for sheep and horses
Watch out for sheep and horses. No this is not a joke, in Iceland, we have more sheep than people, and during the summertime, they are free in the mountains. Sometimes they come close to the roads and if they get scared they can run in front of the vehicle. So if you see sheep by the road, do not hunk at them and make sure to slow down if needed. Now when it comes to horses, something that happens frequently is that people park their cars close to horses and they bite the cars. Yes, this is true, for some reason the horses bite the cars and leave major damage to the vehicle. So if you are looking to enjoy the Icelandic horse, make sure to park the car far enough for them not to be able to reach it.
Do not stop in the middle of the road
Do not stop in the middle of the road to take pictures. Icelandic roads can be very narrow and challenging. Although Iceland has endless places that are worth taking photos of, make sure that you find a spot where you can park the vehicle so it is not on the road. This is a safety matter for you and others who are travelling on the road.
Watch out for speed traps
Avoid speed traps, in Iceland, we have cameras all across the country that will take a photo of you if you speed. Speeding fines in Iceland are very expensive, so make sure to stick to the legal speed limit. The speed limit in Iceland is 90km/h on highways, 70km/h in tunnels, and from 30-80km/h in city limits.
Inspect your vehicle
We strongly recommend that you inspect your vehicle well before leaving the rental office. Take photos of the car outside the rental location and a video. Photos always capture everything while our eyes may miss some damages. This can be important when it comes to returning your car if something is noticed. You will be able to show photo proof, that the damage was there before you left the agency.
Look at what is included in the price 
Looking at the inclusions of your rental deal is a great way to save money and get the most out of the rental. We at Icerental4x4 provide a wide range of inclusions to make sure your rental experience is at the high level we expect it to be.
Our offers include the following:
Personal service
CDW + TP Insurance
24/7 Roadside assistance
Unlimited Mileage
VAT 24%
Winter tires (Seasonal)
Online Checkin
Free pick up and drop off at Keflavik International Airport
24/7 office hours
Free reservation cancellation up until 48 hours prior to your rental
Free additional drivers
How to rent a car in Iceland
Now that you know a little about car rental in Iceland, it's time to learn how to rent a car. The first thing you need to do is find a reputable car rental company. There are many companies to choose from, but make sure you do your research before making a decision.

Once you have found a trustworthy company, the next step is to book your car. Most companies allow you to book online, so this is a quick and easy process. Just make sure you provide all your details, including your driving licence number and credit card information.

The final step is to collect your vehicle. When you arrive in Iceland, go to the rental company's office and present your driver's licence and credit card. Here you will have the opportunity to introduce yourself and ask any questions you may have about driving in Iceland. Once that's done, all you have to do is take your keys and drive off!

Renting a car is a great way to explore Iceland's ring road on your own. If you plan ahead, know which companies offer the best service and reserve the vehicle of your choice properly, renting a car can be easy and smooth.
Some things you should know before driving in Iceland 
- The roads in Iceland are narrow and often windy, so be prepared for a slow drive.
- There are few petrol stations in Iceland, so be sure to fill up when you can.
- The speed limit is usually 80 km/h (50 mph), but note that there are many areas where the speed limit is lower.
- It is illegal to drive under the influence of alcohol in Iceland, so please do not drive under the influence.
- Off-road driving is illegal. It is important to drive on the right roads.
- Watch out for the doors on the car. The wind can be very strong in Iceland. If you are parking your car in a windy area, try to park facing the wind. And as all Icelanders are taught from a young age, hold the door firmly with one hand before opening the door. If you travel with kids, open the doors for them in windy conditions.
- You have to drive with the lights on during day and night in Iceland

These are just some of the things you should be aware of when driving in Iceland. Enjoy your trip!
Choose the right car for your trip to Iceland
When it comes to selecting what car to rent for your trip to Iceland you might find many questions needing answers. 
Manual or Automatic transmission?
In Iceland, the majority of rental vehicles come with a manual stick. So if you are in need of an automatic, make sure that you select one with automatic transmission. Manual vehicles tend to be cheaper than automatics in Iceland. With Icerental4x4, you can clearly see the transmission type on the car card like the one below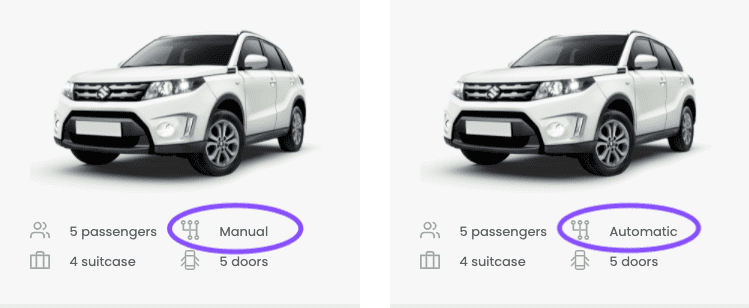 Do I need a 4x4 in Iceland?
If you plan on staying near Reykjavík and taking short drives from the capital to the Blue Lagoon, Golden Circle or Snæfellsnes peninsula you might not need a 4x4. A smaller 2WD vehicle will be more than enough. However, if you would like to explore more of the country, drive on gravel roads etc. Then we strongly recommend 4x4 cars.
With Icerental4x4 you will find a wide selection of vehicles available for rent. Here are our recommendations:
Hyundai i10 – The small city car is perfect for couples that plan to stay in Reykjavík taking small road trips to the Blue Lagoon or the Golden Circle. The i10 does not have large luggage space, in more detail it is 252 litres. 
Hyundai i20 – This medium sizes vehicle is great for couples looking for a slightly more spacious car than the i10. It suits groups of up to 4 people and is perfect for simple road trips on road 1 in Iceland. 
Hyundai i30 – This family station wagon is perfect for up to 5 passengers with good luggage space. It is a car that is good to cruise around Iceland and is very fuel-efficient.
Dacia Duster – The Duster has become one of the most popular rental vehicles in Iceland and there is a reason why! With its 4WD system and high ground clearance, it is perfect to explore the highlands of Iceland. It is also great to drive through the Icelandic winter conditions with its stability and power.
Suzuki Vitara – The Vitara is a great vehicle for those planning a trip around Iceland and would like to have the 4WD option just in case. It is very fuel-efficient for a 4WD and provides good stability in the narrow roads off Iceland.
Suzuki Grand Vitara  - The Grand Vitara is an excellent vehicle for those who want to head to the F-roads. High ground clearance, 4x4 and large luggage space make this vehicle ideal for travelling around Iceland.
Ford Expedition – The Expedition is known for its power and space. With seats for up to 8 passengers, it is ideal for larger groups that want to get to the highlands of Iceland. Small tip, if 8 passengers sit in the Expedition we recommend a roof box as an additional extra for the luggage.
Renault Trafic – The passenger van has seats for up to 9 people. With a large luggage space and a powerful Diesel engine, it is great for large groups travelling the ring road of Iceland.
FAQ about renting a car in Iceland 
Do I need International Driving License in Iceland?
An international driving licence is required in addition to a national licence if the national licence you or any of the additional drivers hold is not identifiable as a driving licence, e.g. because it is written in a non-Latin alphabet (e.g. Arabic, Chinese, Cyrillic, Japanese).
How old to renting a car in Iceland?
You need to be at least 20 years of age. You will also need to have had a driving license for a minimum of 12 months before renting a car in Iceland. 
Do I need winter tires in Iceland?
From November 1st until April 15th all rental cars in Iceland come with winter tires. At Icerental4x4 you will have studded winter tires included in the price. 
What is the speed limit in Iceland?
The speed limit in Iceland is from 30km/h to 90km/h (18.64mph to 56mph)
The speed limit on highways is 90 km/h (56mph)
Speed limits in the city are from 30km/h to 80km/h (18.64mph to 50mph)
Speed limits in tunnels are 70km/h ( 43,5mph)
Speed limits on Gravel roads are 80km/h (50mph)
Car Rental in Iceland
Find your car rental in Iceland with Icerental4x4. You can rent 2WD cars, 4x4 vehicles and Passenger vans. Get more information about Iceland in our blogs and read our Travel Guides about Iceland. Contact us today for your car rental in Iceland!