What we recommend checking out in Iceland
Must see places in Iceland
Iceland is such a beautiful country to visit and one of the most unique places to see. Full of places to hike, see and experience. Here we will go over 10 places and activities we recommend checking out while on your stay here in Iceland.
Dynjandi
Simply amazing, and never short of breathtaking. The unique waterfall is located in the Westfjords of Iceland and is the biggest waterfall you will find in that area. It looks similar to a bridal veil some say and is 30 meters wide but widens up to 60 meters at the bottom.
It is a little bit of a hike to get to Dynjandi waterfall but does not take more than 15 minutes. On the way, you will see a few smaller waterfalls as well so it is not a dull hike (hike ever though?)
To reach Dynjandi waterfall you have to rent a car and drive up to the Westfjords. We do recommend a 4x4 vehicle for the trip as much of it is on a gravel road. From the south side, you take route 1 until you see route 60 on the left-hand side and follow that over Dynjandsheiði heath. The drive from Reykjavík is around 5 hours.
There is a camping site located not too far from Dynjandi as well. Only a 20 minute drive away you may find the Þingeyraroddi camping ground that offers great facilities that are open all year round. There you can find a great spot to park your camper or set up your tent for the night.
Þingvellir Tectonic Plates
In Thingvellir national park, there are a lot of things to see and activities to do like hiking, camping, and fishing. However, we highly recommend checking out or even taking a dive between the tectonic plates. This is the rift between the Eurasian and North-American plate boundaries that run through Iceland. They are moving further apart each year by only 2 cm. The lake is called Silfra fissure.
In order to make the dive into Silfra fissure you have to go to the website and sign up and you can not do it alone as that is forbidden. There are also tours that you can sign up for to do it.
If you sign up for a tour in Silfra fissure then they will pick you up from accommodation in Reykjavík however Thingvellir national park is only an hour away from Reykjavík so it is no problem to go there yourself if you have a rental car.
Ásbyrgi
This amazing canyon has a number of hiking paths and has a very popular camping ground that the locals often visit. At the bottom of Asbyrgi, you will find Botnstjörn pond and you can hike on top of "the island". Ásbyrgi is shaped like a giant spectacular horseshoe with the island in the middle and is of course steeped in folklore. The tale says that given the canyons horseshoe shape that the nor's god Odin was riding his eight-legged steed Sleipnir. Sleipnir placed one of its feet on the ground in Asbyrgi that left a deep imprint on the earth.
However, geologists estimate that the canyon began to form around 8-10 million years ago, or just after the last ice age, and with that, there was massive glacial flooding of the Jökulsa á fjöllum river. Then again only 3.000 years ago, this happened again that further sculpted the spectacular gorge that we know today.
As said before you can find a great camping ground in Ásbyrgi where you can put up your tent or rental camper for the night. On the grounds, you will find it has showers, washing machines, a golf course, and a playground if you are traveling with kids.
Puffin Island
The puffin is often referred to as "the clown of the sea" and can be found all around Iceland. Most of the puffin's population in Iceland is in Westman Islands. If you are only staying here for a few days and do not have time to go to the Westman Islands you will be glad to know that you can see them while in the city!
A short boat ride from Reykjavík you can see the amazing Lundey (Literally translated to puffin island) and Akurey islands. These islands are uninhabited that gives the birdlife much-needed peace and quiet. You will not be able to go onshore these islands, however, you will be able to see them quite well from the boat.
Lake Mývatn
Mývatn is a shallow lake located in the north of Iceland.It got its name Mý(midge) vatn(lake) due to the large numbers of midges there in the summer. Mývatn is not far from the volcano Krafla and because of that, it has a high amount of biological activity.
You will find that Mývatn has a number of things to see and experience all year round.
We recommend checking out Dimmuborgir the dark fortress at Mývatn. It consists of huge lava rock formations that make it seem like you stepped into another world. The place also has a number of folklore and many belief is the home to the 13 yule lads.
Behind Námaskarð in Mývatn, you will find a unique landscape full of boiling mud. There are call Hverir geothermal field, these hot springs hiss and you will feel like you just stepped foot on mars! Just be careful as they have a temperature of over 200 degrees celsius.
Grjótagjá you may not have heard of, but you might think it looks familiar if you are a fan og the TV series Game of Thrones. In season three Jon Snow and Ygrette consummate their relationship there and Snow proves his abandonment from the Night´s watch. It is a small cave that was a popular bathing spot for the locals decades ago. But due to geological activity around 1980 the temperatures of the water rose and it has not been possible to bathe in it since then.
There are a number of other places to see in Mývatn but these we have listed above are our most recommended. There is also two camping grounds in Mývatn where you can put up your tent or park your camper and either one is a great choice. If the wind is high when you are visiting we do recommend trying to get a spot in the camping ground further away from the lake itself as there you will find more shelter, however, if you are visiting in the summer and the midges are in full swing we recommend the one closer to the water.
Húsavík – Whale watching
Recently became well known due to the Will Ferrel movie Eurovision – The story of Fire Saga, Húsavík is the whale capital of Iceland. There you will find a great whale museum, GeoSea Geothermal sea baths as well as find great restaurants, and go on a whale watching tours in the fjord as the chances of seeing a whale there is a whopping 98%!
There is also a great camping ground on the outskirts of Húsavík where you may find great walking paths, cooking facilities, golf courses, showers, and more.
Jökulsárlón glacier lagoon
Jökulsárlón is situated on the southeast coast of Iceland. You can even see the lagoon from route 1 between Höfn í Hornafirði, and Skaftafell.
The lake is still growing due to the melting glacier Breiðamerkurjökull and is Iceland's deepest lake of 284 meters. There is a good chance that you can also spot seals in the lagoon as they flock to the mouth of it to catch fish in winter.
Vík and Reynisfjara
Vík is the southernmost seafront village in Iceland. Situated right by Reynisfjara black sand beach with only one cliff in between we highly recommend visiting both locations.
Vík is one of the most beautiful villages you will find in Iceland and is well known for its beautiful surroundings. If you are visiting Iceland og a photographic tour, you must stop by in Vík. Also, a must when in Vík is the Icelandic Lava Show. It is the only place in the world where you can safely experience the lava up close. There they recreate a volcanic eruption by melting lava up to 1.100 degrees celsius (2.000°F). 
Reynisfjara black sand beach is one of Iceland's most popular tourist attractions. And no wonder, as it is such an amazing place to experience the beautiful nature of Iceland and their many people say they can find the high forces of nature.
Reynisfjara is a dangerous place and you should never go near the ocean. The waves of the ocean often push far up on the beach with great force as there are no significant landmasses between there and the Antarctica, so the waves have thousands of kilometers to build up.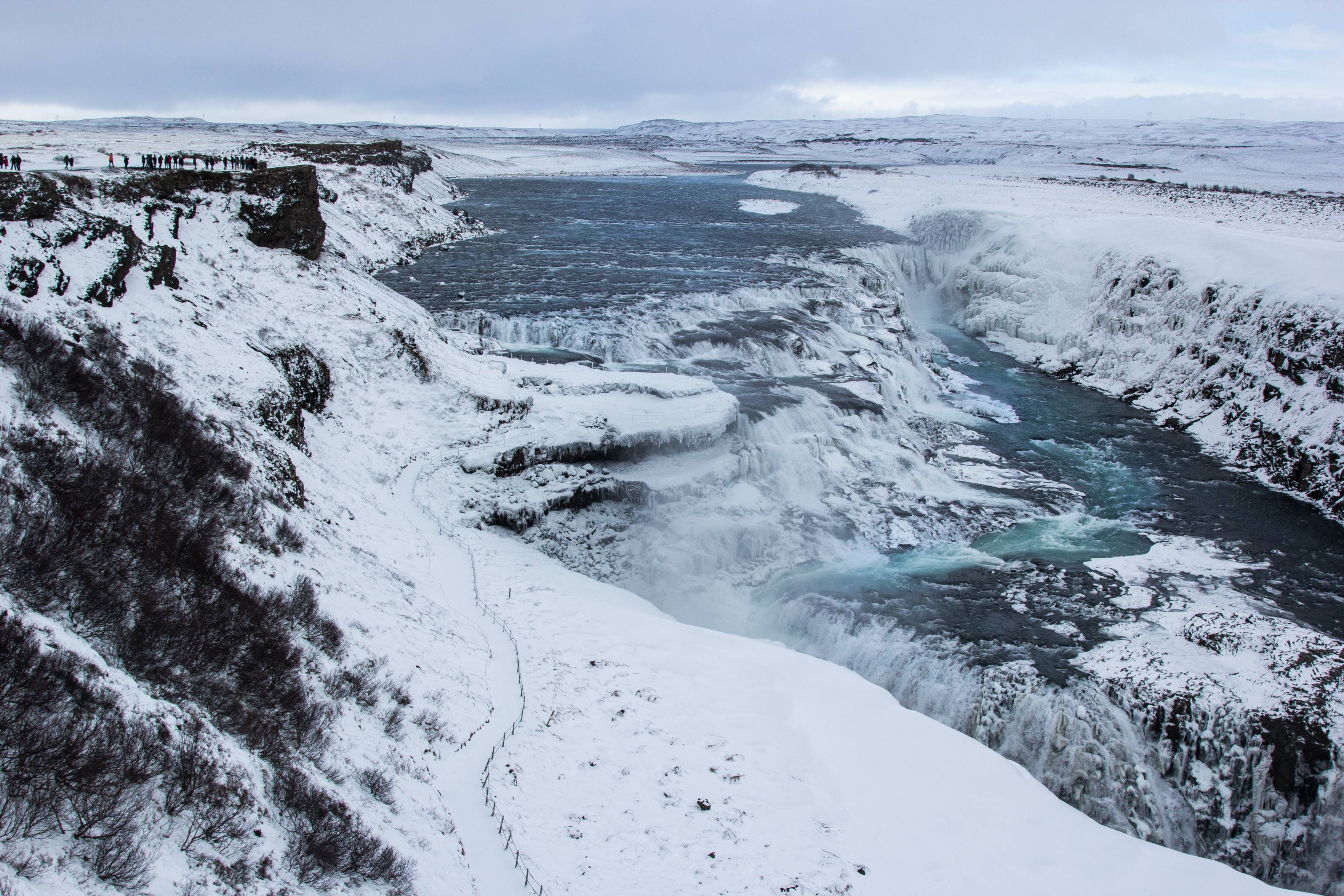 Golden circle
Also one of Iceland's most popular tourist attractions, the Golden circle consists of mainly Thingvellir national park, Gullfoss, and Geysir but it is also recommended to make a stop at Kerid the volcano crater and Skálholt Cathedral.
Geysir itself has not been active for many years, but Strokkur still erupts every 5-10 minutes.
These locations really are a must-see here in Iceland!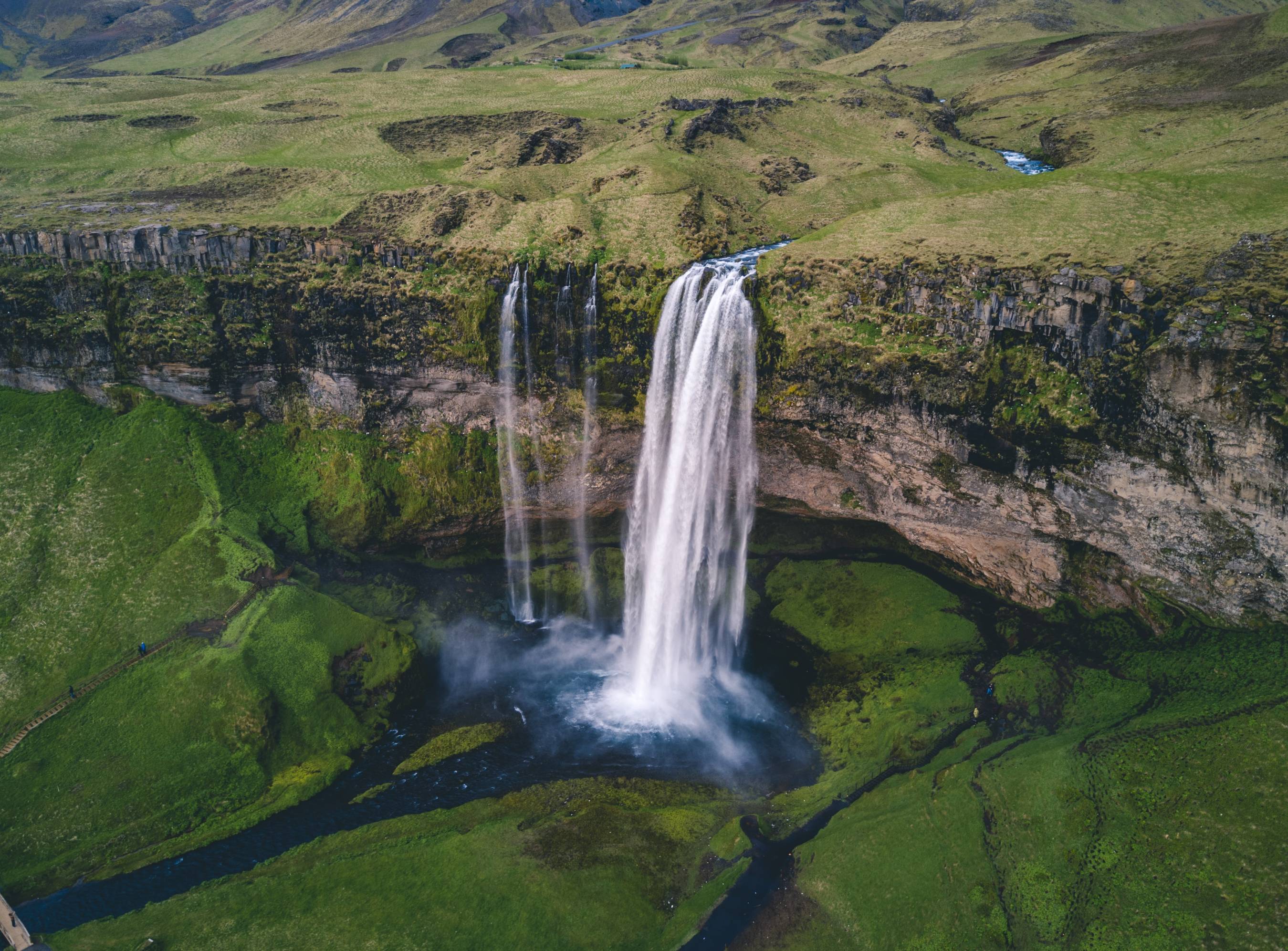 Seljalandsfoss waterfall
The waterfall is located on the south coast of Iceland, close to the ring road. You can walk the full circle of Seljalandsfoss, making it very unique here in Iceland. It has a drop of 60 meters (200 feet) and is one of Iceland's most majestic and famous falls. If you plan on walking behind the waterfall, you should take some warm and waterproof clothing due to the perpetual mist of the falls that can also make the rocks of the pathway slippery, so be aware of that.
Seljalandsfoss is part of the river Seljalandsá that has its origin underneath Eyjafjallajökull glacier. The well-known eruption in 2010 was from the volcano in that glacier.
To go to see Seljalandsfoss, you need to rent a car for your trip. There is also a camping ground near the waterfall where you can stay for the night and enjoy the roaring sound of the waterfall while you fall asleep.